2023 Spring Golf Tournament at Glen Eagle Golf Club
Glen Eagle Golf Club, a premier 27-hole championship golf course just a few minutes northwest of Toronto, hosted OGMA's Spring Golf Tournament on Wednesday, June 14, 2023.
Two awards were presented at the tournament.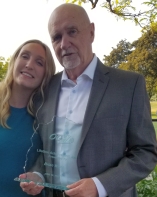 First, Brian Wiles (pictured here with his daughter, Megan) was recognized with the OGMA Lifetime Achievement Award. Here is what OGMA President Steven Ringler had to say about the honour:
After 40-plus years in the industry, there can't be many of us that don't know who Brian Wiles is. Brian entered the industry in 1975 with Indal Products selling storm windows and doors for $29.95 each. What in our industry can you buy for $29.95 these days? Not much is all I can say.
Now, I know some of you in the room weren't even born in 1975, and also probably don't know what a storm window or door is… go ask your grandparents.
I first met Brian back in 1992 when he was my sales rep for Armourguard Glass. After many other companies and a short stint selling cars, Brian decided to retire from Walker Glass in 2020.
Brian has been an active member of the OGMA since 1990, mainly as our treasurer, and after 33 years with the OGMA, Brian has decided that's enough, time to step aside.
Please join me with a round of applause to celebrate Brian Wiles's Lifetime Achievement.
Congratulations, Brian!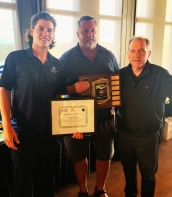 Second, Luke Parkin (pictured at left with OGMA President Steven Ringler and AGMCA President Noel Marsella) was awarded the 2023 Spring Bursary Award. Here is what OGMA President Steven Ringler had to say about the honour:
Luke, you have been selected by the training staff of the Ontario Industrial & Finishing Skills Centre to receive a joint $1,000 bursary from our associations, the Ontario Glass & Metal Association, and the Architectural Glass and Metal Contractors Association. The two associations have decided to give back to the glazing trade for the most outstanding apprentice for the term.
James Clifford and Mike Pentz, your instructors, have selected you for your positive attitude to learn the trade and helping tutor other apprentices with their work assignments. You have also been recognized as having the highest-grade average to date.
To quote your instructors: All in all, Luke has been a pleasure to work with, we wish you all the best for your future in the trade.
Congratulations Luke on being selected as Glazing Apprentice Honour Student for the term.
Photo Gallery from the Tournament
END