Passing of Bernie Leaman
August 2, 1936 – May 12, 2019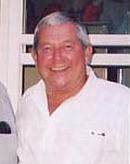 It is with sadness that OGMA shares the news of the passing of our friend and former royalty of the architectural metal industry in Canada. In our business, occasionally you will come across people who made a real impact on the industry. One of those people was Bernie Leaman of Commercial Aluminum. Bernie was that type of guy you were happy you had the opportunity of meeting. He always greeted people with a smile, was quick to laugh, personable, and fun to talk to… a very charismatic gentleman.
Bernie Leaman started his working life as an office clerk in 1953 at the age of 17 and found his way into the glass and metal business with Millington Brothers Glass in 1955, doing the books, estimating, inside sales, and anything else that needed taking care of in the one man office. That was his start to a long and rewarding career in our industry.
Commercial Aluminum became part of the Indal group in 1965, and in 1969, Bernie was enticed to join the company and run the office for the princely wage of $55 per week. At the company Christmas party in 1976, Ian Moore announced that Bernie had been promoted to president of Commercial Aluminum. A few years later, Bernie opened a branch of Commercial Aluminum in Calgary.
Bernie always had a strong belief in people, their desire to succeed, and a willingness to give them a break. Bernie gave many glaziers their start in business by extending them credit, while making it clear that his trust was not to be taken lightly. "You can't be in business and stay in business if you are a dishonest person."
Throughout his time in business, Bernie was a strong supporter of the Metro Toronto Glass Association, the predecessor to the OGMA, and served on its board for eight years as secretary, treasurer, and eventually president. To his final day, he had a plaque hanging in his home office dated June 22, 1977 honoring him as the MTGA "Man of the Hour", beside the inaugural Lifetime Achievement Award bestowed upon him in 1998 by the OGMA.
When asked about the highlights of his career, Bernie cited all the marvelous relationships and friendships he cultivated with customers and suppliers during his career. "I have no negative memories whatsoever about my time in business… I loved every minute of it." A few years ago, Bernie said that, "everything I am today I owe to what I learned during my years spent at Commercial Aluminum." We're going to miss you Bernie.
– Frank Fulton
Categories: Members Bulletins